Consortium Dialogues
Interview With Luis Ramiro Beltrán: 'I've Lived My Life As a Communication Artist, Not a Scientist' (November 2004)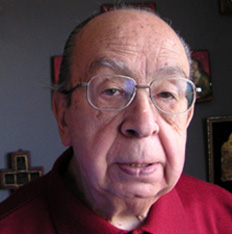 Gumucio Dagron:
If we agree that, until very recently, there was no academic discipline of communication for development and social change as such, how did you and others of your generation become specialists?
Beltrán:
In my own case it happened by accident. Allow me to give you a long answer and dig into my memory. I was 15 years old when I started working as a journalist for
La Patria
, in Oruro, where I was born. After a while, I decided to migrate to
La Paz
and started working in another daily,
La Razón
, which at the time was the most influential newspaper of Bolivia. However, following the nationalist revolution of April 1952, it was impossible to continue publishing it, as the proprietor was one of the three large mining industry owners, Carlos Victor Aramayo. Suddenly, I found myself unemployed, although I managed by contributing to a weekly humour magazine called
Momento
, a news programme on Radio El Condor, a bit of commercial advertising and public relations, plus being a correspondent for the
Chicago Tribune.
I was young and hardworking but also a bohemian. I had time for everything, mostly for spending long nights out, rather than getting up early.
One morning in August 1953, a "gringo"ť by the name of Frank Shideler came to my door. I had not met him before, but Mercedes de la Reza, a schoolmate of mine, had recommended I get to know him. He explained to me that the Bolivian and the United States governments had signed a cooperation agreement called Inter-American Agricultural Service (
Servicio Agricola Interamericano
, or SAI). Shideler was the director of information and extension and wanted me to work with him. I did thank him for his thoughtfulness but declined because I felt neither capable nor interested in agricultural issues. In addition, the salary he offered me was not so attractive. He listened carefully and then drew out his magic weapon: He offered me a two-month scholarship to study "audiovisual education"ť in Puerto Rico, including film production and graphic arts, if I accepted a trial of three months with flexible office hours. I did succumb to his persuasive offer, and Frank Shideler then became my first mentor and teacher for communication for development.
He did honour his word. By December 1953, after he evaluated my performance satisfactorily, he sent me to Puerto Rico to participate with 15 other Latin Americans in the First International Seminar on Audiovisual Education, sponsored by the predecessor of USAID, the Foreign Operations Administration (FOA). The course was followed by workshops at the Faculty of Agronomy of the University of Puerto Rico and at the Community Education Centre, which the U.S. government had established under the direction of Fred Wale.
This is how I got my first theoretical orientation on the educational uses of communication, which the United States had learned and developed from its experience in the Second World War. They would not mention "development."ť Instead, they used "progress"ť and "modernization."ť I enjoyed learning the essentials about producing films and using photography for rural education, as well as acquiring the skills to design and produce posters and educational brochures using silkscreen techniques. The study of communication for development was interesting, and I loved the beauty of the island, which was populated by good people embarking in the process of "modernizing"ť and moving from their neo-colonial status to that of a "free associated state."ť
At the end of our training, the participants, all of whom were from government information agencies, decided to create the Latin American Association of Audiovisual Education, and I was elected president. As we were packing to go back to our countries, Florence Thomason, from the FOA Latin American desk arrived from Washington. She was selecting one third of the participants for a six-month scholarship in the United States that would be funded by the Department of Agriculture. I was one of those selected, and Florence became the godmother of my future career. I still have warm memories of affection and gratitude for Frank and Florence.
There was no single communication for development training programme in the US. Actually, nowhere in the entire country was there an academic department that would provide that type of training. However, in several universities they had "centres of excellence"ť with various strengths, such as the production of slides, filmstrips, and documentary films, "audience psychology"ť, writing texts for peasants, design of audiovisual aids and rural radio. I just mention the courses I decided to take at Pennsylvania State University, Michigan State University, University of Wisconsin, University of Vermont and Louisiana State University. All this training focused on audiovisual communication skills, and we were still a few years away from the first attempts to suggest David Lerner's theory of communication and modernisation and even further from the voices of other high priests of this new discipline, such as Wilbur Schramm and Everett Rogers. It was in the United States that I met Juan Diaz Bordenave, a Paraguayan rural communication specialist, with whom I built a life-long friendship and who became one of the most prominent representatives of this discipline in Latin America.
In 1954, after a short period in Turrialba, Costa Rica, at the InterAmerican Institute of Agricultural Sciences of the Organization of American States, I returned to Bolivia, most happy with the opportunities I'd had to study, something I could have never dreamed before, considering that in my country there was no academic institution to study journalism, let alone communication for development. As I had agreed, I joined the Servicio Agrícola Interamericano and helped Frank strengthen the Bureau of Information and Extension. We produced a film on a young farmer from Santa Cruz, and many flyers, brochures, posters using silkscreen, as well as training for radio producers. For the first time I had the opportunity to do fieldwork with indigenous peasants, who were still enthusiastic about the revolution, and I learned to admire them in many respects. However, by the end of that year Shideler resigned because of misunderstandings with his boss, and I did the same in solidarity with my boss, mentor and friend.
It was at that moment that, guided by Jorge Ruiz, a young and brilliant filmmaker, I was introduced to my second love""after journalism, which I practised since I was a kid""and became a scriptwriter. My first effort was the award-wining documentary, "
Vuelve Sebastiana
,"ť which focused on the culture of the Chipaya Indians of Oruro. Though I enjoyed the experience at that moment, I didn't realize I was among the first to work in this discipline, in which the art of social communication was used in the service of public interest.
Early in 1955 I received an invitation from Claudio Volio, head of Project 39 at the OAS Technical Cooperation Program in Costa Rica, to work at the Inter-American Institute of Agricultural Sciences, establishing a technical-educational rural communication service for the region. My name had been suggested by Armando Samper and Rogelio Coto, both of whom I had met briefly the year before. I was honoured by their trust, but I was not inclined to accept the offer, since I didn't want to leave my country for a long period and leave my mother, who was also a journalist, alone. However, she convinced me it would be a mistake to decline the offer.
By that time the economic situation in the country during the initial revolutionary government period was bad, and hundreds of citizens who opposed it were forced into exile or were sent to camps. My mother and I worked hard to survive, and she felt proud that her son had been invited, being only 25 years old, to serve in an international organisation, which provided a more stable income. Those who had worked as journalists at the conservative newspaper
La Razón,
including myself
,
were harassed by the government, even though I had not been involved in any anti-government activity. In view of this situation, and encouraged by my mother, I took the job for one year and travelled to Costa Rica in September 1955. I had no idea then that this move would be the first step of an international career that kept me away from Bolivia for 34 years. It was only after the second year in Costa Rica that my mother came to join me. From 1955 to 1960, I was based in Costa Rica but travelled extensively throughout Latin America. Among my colleagues was Juan Diaz Bordenave. We trained thousands of university students and government staff in the principles and techniques of communication for rural development. We also provided technical and organisational assistance to public entities to enhance their communication services. We also frequently produced publications with technical content that circulated among rural development institutions in the region.
In 1956, I took three weeks off to write the script for "
The Ximul
,"ť a documentary by Jorge Ruiz on rural development in Guatemala. By 1961, after a workshop on television production at New York University, I was transferred to the regional Andean office of IICA in Lima, along with Juan Díaz Bordenave and my fellow Bolivian, Enrique Sánchez Narvaez. By 1964, I was decided to apply for a fellowship for post-graduate studies in the United States. Again, I was reluctant to compete because I felt I was no good at numbers, statistics being the core of research studies. I was afraid of failure. However both my director and my mother convinced me to apply. I was surprised to be awarded the fellowship and applied to the Michgan State University. At the time, Michigan was pioneering studies in communication, with a vision for its usefulness for international development.
I apologise for offering such a detailed account, but your question has prompted me to review my whole professional life, something I haven't done very often in interviews.
My studies in Michigan, a prestigious and dynamic academic institution, were to produce major changes in my professional and private life. I arrived to East Lansing, Michigan, along with my mother, in 1965. During the first year I studied only those courses, including statistics, I needed to get my undergraduate degree. Subsequently, I started with the credits for the master's degree and eventually for the Ph.D. I had to read a lot for every single course, and often write short papers, which required at least 12 hours every day, including weekends. It was hard for me, but beautiful. I had never had the opportunity before to read so much, to reflect and to dialogue with professors and students, and to live a life entirely devoted to learning, researching and writing.
I was lucky to have among my professors Dr. David Berlo, a brilliant linguistics specialist and a pioneer in the field of communication; and Everett Rogers, already famous for his diffusion of innovations theory. I had the privilege of being an assistant to both. I owe them much. Professor Rogers became my master's advisor, and Professor Berlo my Ph.D advisor. The first thesis
[1]
, in 1968, was a compendium of the main scientific theories of communication for development that existed at that time, followed by my suggestions on expanding the research and enhancing the practical applications. The second thesis
[2]
, in 1970, was a diagnostic of communication and development in Latin America, characterised by external domination, mainly from the United States, and the internal dominance of the wealthy minorities over the majority. The study criticized the imposed model of development""materialist, conservative and anti-democratic""and proposed how communication could help change it.
It may sound paradoxical, but I fully became aware of the almost neo-colonial context of Latin America during my years of study in the U.S. Given the vast literature available at Michgan State University I came to learn about the nature of our society, economy and culture while I was physically far from our region. I became convinced that our region needed profound structural changes. And for this to happen, we had to change communication itself, struggling to democratise for the benefit of the impoverished, exploited and silenced people. Before Michigan I didn't have a clear idea of the situation in our countries, which is why, along with my companion Juan Diaz Bordenave and other pioneers of development communication in our region, I had worked with "blinders,"ť convinced of the power of mass media in development programmes; I had faith in technology, but I couldn't see the underlying political issues. After Michigan I had a different approach, and this transformed the way I worked in our region when I went back to Colombia in 1970 as the Director of the Inter-American Centre for Rural Development and Agrarian Reform, a branch of the IICA at OAS. My vision of communication for development had changed radically.
Gumucio Dagron:
About 15 to 20 years ago, university journalism departments in Latin America decided to change their names and became faculties or departments of "social communication."ť. However, apart from adding marketing, advertising and public relations, the content of studies didn't change much. Those universities are still unable to train communicators who are capable of contributing to social change. Only a handful, less than 1% of the existing academic programmes, offer communication for development. Why does this general apathy persist in the academic world?
Beltrán:
With very few exceptions, universities in our region--and particularly private academic institutions--are seldom related to the needs and concerns of their own societies; they do not take into account the reality of politics, culture and economy. The teachings they offer seem to serve intellectual demands and the traditional professional requirements of the middle and higher classes. During the past 30 years, they have mostly tried to respond to the demands of the private entrepreneurial sector, establishing new areas of professional education, definitely more akin to the market, business administration, public relations and marketing. In spite of the increasing number of communication schools created in the last 40 years, few break away from this general pattern. Most prepare communication professionals for the world of business, not for the service of society. They seem incapable of seeing that communication for development is an important discipline; they are convinced that there are not many opportunities for communication specialists, except for those who enter journalism, advertising, marketing, and even more recently, political propaganda and public opinion studies. The bottom line, unfortunately, is that universities in Latin America have no real commitment to address the structural changes necessary to build a more just and prosperous democratic society. That's why they do not invest in communication and education for social change.
Gumucio Dagron
: Please describe a communicator for development and social change. How does he/she differ from a journalist?
Beltrán
: The main characteristic of communicators for development is their determination to work on behalf of public service. This usually drives them--particularly in the context of Latin America--to commit themselves to the service of social justice and change.
The main difference between journalists and communicators for development is that the latter understand communication mainly as a tool for enhancing people's education for the betterment of their lives. The main thrust of journalists is news, whereas the development communicator struggles for a change in behaviour, so people can succeed in overcoming underdevelopment, injustice and authoritarianism.
Gumucio Dagron
: One of the topics that have come back in force in recent years is "communication rights."ť You were deeply involved with this issue 30 years ago, when UNESCO and others recommended that developing countries establish their own information and communication policies to counter the pervasive influence of global hegemonic media. How can you assess that experience, and how much of it can be of help today?
Beltrán
: The attempts to encourage developing countries to design and apply their own communication policies, from which pluralistic strategies and plans were to develop, were frustrating. During the 1970s, mainly with UNESCO's encouragement and support, the theoretical and political fundamentals were set up for developing such policies. Sadly, they didn't go further than research and reflection or statements from governments. This was mainly due to the hard and tenacious opposition to the proposed changes, which were pluralistic, democratic and peaceful. Huge transnational alliances of media owners and operators are, for the most part, commercially driven and conservative. They consider any attempts to establish norms as a threat to "press freedom,"ť which is actually "business freedom."ť On the other hand, there was a risk that military rulers""which were abundant in our region in those years""would perversely benefit from applying the norms for their own profit.
We must also admit that while working on these new democratizing changes in policies, we didn't even attempt to involve key civil society organisations. No union or political party was kept in the loop. No opinion leader was mobilised to support the scheme. The only exceptions were the associations of Catholic communication professionals, who managed to commit the Church's hierarchy. In fact the Church was the only key social institution that identified with the movement
If there is any lesson learned from previous experiences, it is the need to adjust the original proposal, and "sell"ť it to key organisations in each community, to opinion leaders and politicians, to avoid preaching to converts.
Gumucio Dagron:
In terms of democratic communication and the civil society struggle for citizens' communication rights, are we worse off than we were than we were 30 years ago?
Beltrán:
Today's world scene is ambiguous. The idea that communication should be horizontal and participatory to support democratic development seems to have reached further than the academic enclaves. However, the practice of this approach to communication has been subjugated by the unrestrained growth of commercial media and doesn't seem to have the strength it had during the 70s and 80s.
On the other hand, the new communication and information technologies now available have expanded information access for the people. As for communication and citizens' rights, there are some encouraging new developments, perhaps more conceptual than operational. During this last decade, an international movement has grown to struggle for information and communication rights, which is not simply a synonym for press freedom for the few but a right of all citizens. We have also seen the emergence of media control, such as auto-regulation in mass media and regulation, promoted by civil society. Fresh theoretical approaches are born. The current worldwide discussion on the "Information Society"ť now includes the issue of democratic ideals.
Gumucio Dagron
: Since the 1960s, Latin America contributed to the theory of development communication through authors inspired by the socio-political reality and informed by concrete knowledge of a different approach to communication: for the people, horizontal and participatory. However, most books of communication published in English do not acknowledge the pioneering contribution of Latin American authors. Why is this?
Beltrán
: There's a lot of ignorance in English-speaking countries about Latin American contributions to communication theory. One explanation is that our literature hasn't shown up very often in English academic publications. However, this shouldn't amaze us, because even in academic publications in Spanish and Portuguese, papers on communication for development were seldom printed.
More importantly, the scarce Latin American literature on communication for development is committed to social change and democratic values, whereas in academic institutions of the United States, there prevails a vision of social sciences uncontaminated with politics. Therefore, they do not grant any validity or trustworthiness to Latin American research, as empirical as it may be. U.S. academics could hardly then recognise the pioneering contributions of the Latin American region. Exceptions include Everett Rogers, who in more than one book and several interviews, acknowledged his own change in perspective on development and communication, thanks to Latin American researchers. In addition, I can mention some other U.S. researchers, such us Brenda Dervin, Emil McAnany and Robert White.
Gumucio Dagron
: Your own career in communication for development expands over 40 years. Have your ideas evolved during these decades?
Beltrán
: I'm afraid I don't know the answer, at least with certainty, because I've never done the exercise of comparing my ways of thinking communication over the years. This may have to do with the fact that in spite of half a century working on the same subject, I've never been an established professor or researcher in academic institutions. I've earned my living as a communication artist, not a scientist. Sometimes I've even earned my income working in development programmes not directly related to communication.
I dare say my position has not changed in any radical way, except in some specific areas. I do maintain my essential principles without any fear of being labelled a conservative, since I learned from my mentors that a scientist""different from a politician, a lawyer or a journalist""is always ready to review what he has asserted and to discard it if there is reason, including even his most cherished ideas. That said, I never rejected my conviction that our society is currently unjust and anti-democratic, and I never relinquish the dream that communication will help change it. The society I denounced in the 1970s not only has not improved, but in many ways and, largely because of globalisation and neo-liberalism, it has worsened. There has been involution instead of evolution. I cannot abandon then the utopian ideal of social justice.
 
[1]
Communication and Modernization: Significance, Roles and Strategies
. MA Thesis, Michigan State University. East Lansing, Michigan, United States, 1968. (Unpublished).
[2]
Communication in Latin America: Persuasion for Status Quo or for National Development
? Ph.d Thesis, Michigan State University, East Lansing, Michigan, United States, 1970.