Publications and Resources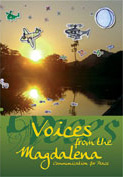 Voices from the Magdalena: Communication for Peace
"Voices from the Magdalena. Communication for Peace" is a 35-minute video documentary on the community radio network in the Magdalena Media region of Colombia. The region is known because it is at the centre of confrontation between guerrilla and paramilitary forces. Decades of conflict have caused enormous economic, political and social damage to the people living in the region. However, people have organised to elevate their voices through community radio stations that promote peace and regional development through the strengthening of communication and cultural identity. A team of university scholars and communication activists from the network of stations (AREDMAG) recently conducted a research project that revealed how the stations contribute to peace and development and began evaluating participatory community media processes.
Directed by Alfonso Gumucio-Dagron and produced by Amparo Cadavid Bringe, this documentary describes the context in the region, the participatory processes promoted by community radio stations and the role of evaluation.
35 mins. Copyright © 2006, Communication for Social Change Consortium and Universidad Javeriana.
Price: 10 USD. To order, click here
---