Publications and Resources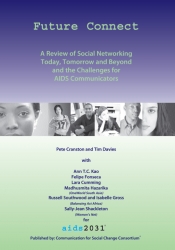 Future Connect: A Review of Social Networking Today, Tomorrow and Beyond, and Challenges for AIDS Communicators
This report produced by the Communication Working Group of aids2031 talks about how young people use social networking sites and services and how development and social change organizations are using digital technologies to extend their impact. It recommends ways on how to apply the learnings in HIV AIDS communication based on research and case studies from across the globe.
Download a free copy of "Future Connect" (PDF)
Please note the above PDF file is 7MB and may take several minutes to download.
The printed version of the "Future Connect" report can be ordered online beginning January 4, 2009.
---