MAZI Photo Gallery
The Kids End Up On The Street: Local communities in Nepal use participatory performance practices to question the local school system and the plight of lower caste children within it.
Photo-essay by Alex Mavrocordatos.
alex.mavro@cdcarts.org
Alex Mavrocordatos is a founding member of The Centre for the Arts in Development Communications (cdcArts). He has provided consultation, project design, training and evaluation to international organizations including the British Council, Comic Relief, the Department For International Development (UK), the National Theatre of Namibia, Oxfam and UNICEF. He is a senior lecturer in the master's degree Theatre and Media for Development programme at the University of Winchester.
During 1999 and 2000 Alex Mavrocordatos, of cdcArts, and Ann Shrewsbury, of Small World Theatre, trained some 30 Nepali street performers, development workers and local community members in Participatory Performance Practices (PPP). The trainees were encouraged to develop their own version of the practices.
The PPP programme was devised and run by Mavrocordatos and Shrewsbury. It sought to shift the emphasis of Theatre for Development work away from the prevalent lengthy, message-laden plays to a more participatory form, built on dialogue with the audience and the community. PPP dialogue highlights specific local issues and actively explores potential resolutions.
The emphasis was on human rights and gender. One of the project locations was Janakpur, a city in the south of Nepal. The street performers and community facilitators talked with local people in market places, schools, street corners, teahouses and even in people's homes. In doing so, they identified, discussed and prioritised key local issues and attitudes.
In Janakpur, the performers and facilitators found that access to education was the primary concern of local people. Many locals were quick to point out that children of lower castes are frequently ostracized or ill treated and effectively forced out of the schooling system. Typically, they then resort to a life of petty crime to survive.
In workshop-rehearsal space the performers and facilitators reported and analysed their discussions with locals. Based on their findings, they devised a 10-minute performance they could perform at the same Janakpur locations where they had talked to locals.
The performances depicted issues caused by effective denial of education to lower caste children. They were followed by discussions and enactments of a range of alternatives and solutions.
By limiting their performance to ten minutes, the players were able to target specific sectors of the community""children outside school, women at a well or washing point, people in a market square "" and explore their specific points of view. Ten minutes of performance often yielded a half-hour of discussion afterwards. These discussions were richer with small audiences, where more people speak more readily.
In the photo essay below, Participatory Performance Practices in three different sections of Janakpur highlight the plight of lower caste students.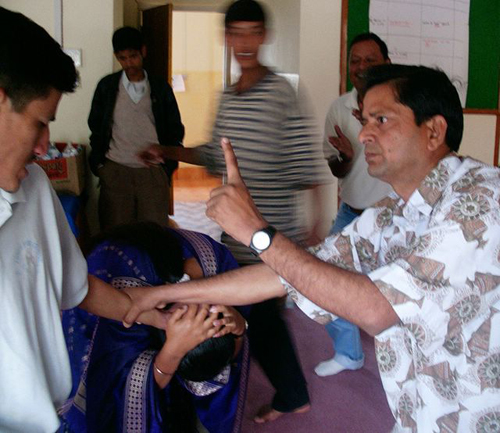 Trainers coached street performers in workshops before going out into the villages with them. Here one participant depicts a schoolteacher threatening a student. Together, trainers, facilitators and performers create a 10-minute performance.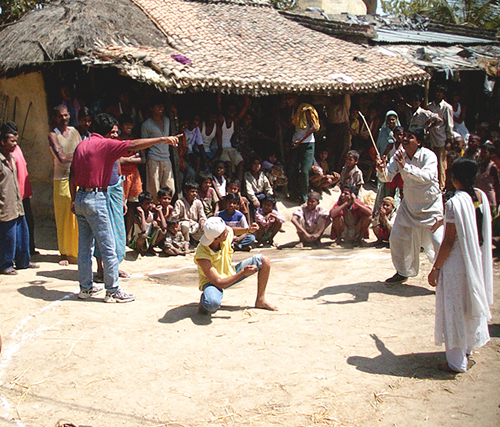 In a performance at a market square, the players depict a teacher who threatens his low caste student, Rijhana.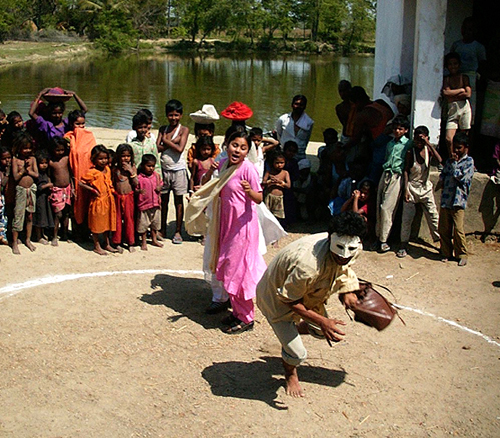 In another performance, presented outside a schoolhouse, Rijhana, initially eager to be educated but driven from school by his teacher's actions, steals a handbag from a woman in the market.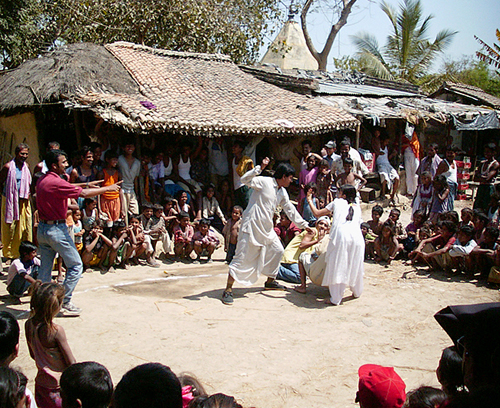 Witnesses to the theft beat the low-caste Rijhana (shown here in the marketplace performance)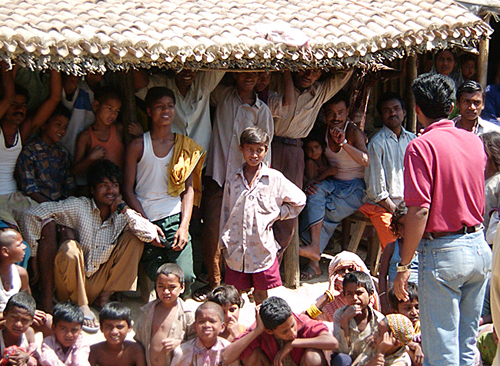 The facilitator talks it over with the audience, testing the truth of the depictions they've just seen and asking for audience opinions. He asks, "Is it really like this? How do you see the reality?"¯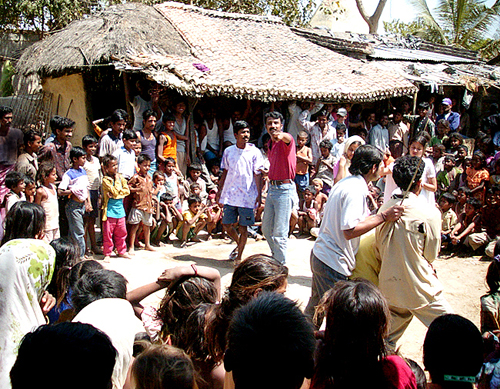 The facilitator invites the audience to take part and act out other ways Rijhana could have behaved while he still had a choice.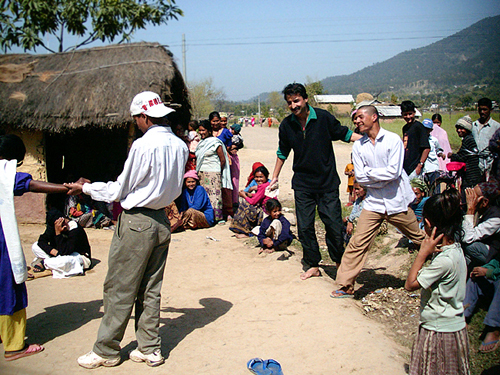 During a third performance of the play, the facilitator brings in a local youth to replace one of the actors and portray the youth's own view of this scenario, leading to a different outcome.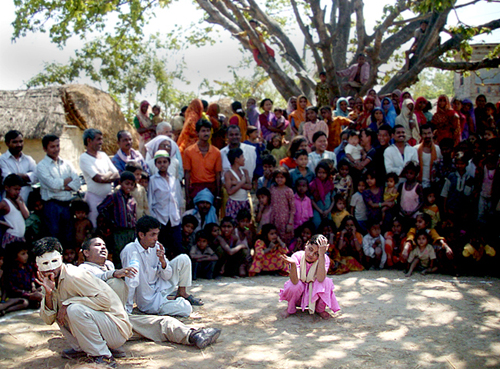 Invited to explore the causes of Rijhana's disaffection and dissolution, some older audience members devise images that blame 'bad company,"¯ other boys already on the street, for leading Rijhana astray.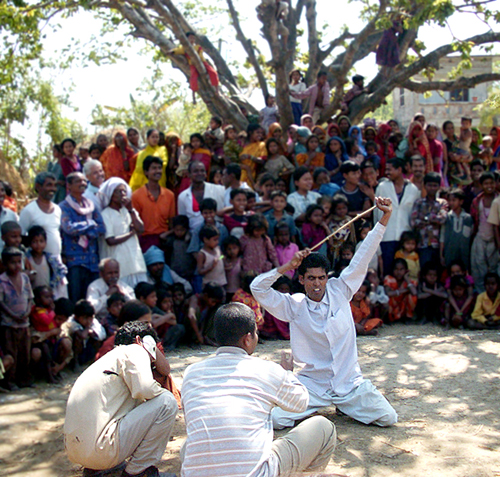 Others act out a scenario in which Rijhana is healed by going to a local healer, a "witchdoctor (sic)."¯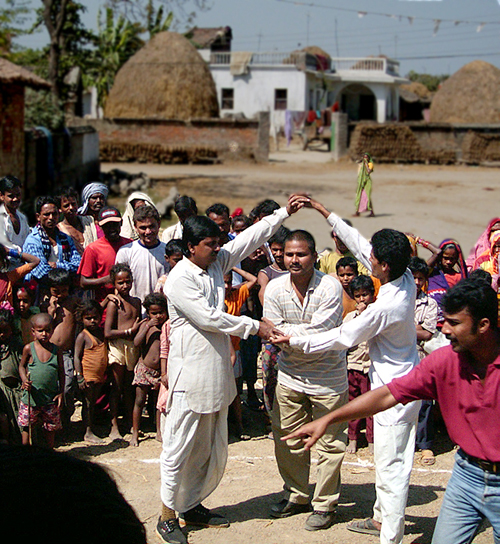 Some children in the audience see another reality. They point to domestic issues preventing them from concentrating on schoolwork. They form the players into an image of a television screen, making the point that, in their single-room homes, TV is a constant disturbance.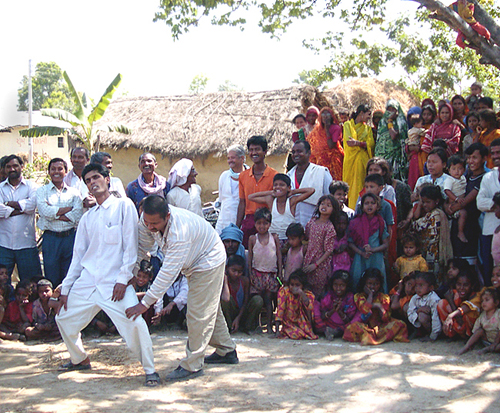 Other children blame the teachers. They create depictions of sleeping teachers, or, as shown here, teachers who require students to massage their backs and legs during class.
The children propose a solution: Parents should get together and confront teachers demanding that they deliver a real education to their children.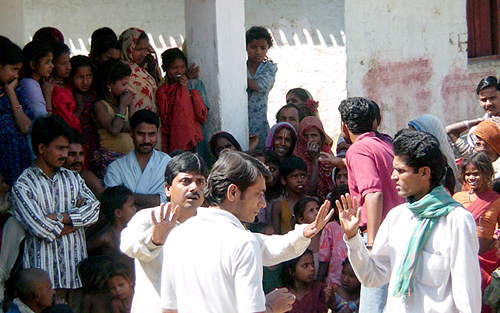 Many of the parents in the audience accept the children's suggestion that they should visit the teachers and urge them to mend their ways.
The Centre for the Arts in Development Communications (cdcArts) promotes the practice and understanding of cultural action for social transformation, liberation, resistance and advocacy. It works to change the neo-liberal model of globalisation and the grassroots attitudes and perceptions it has generated.
The Centre works with arts and development practitioners and community members the world over. Working out of the University of Winchester, we provide participatory training programmes, projects and consultancies responding to the needs identified by both local people and development agencies. We offer undergraduate and master's degrees in Theatre and Media for Development. (www.cdcArts.org/matmd )
The PPP programme in Nepal was made possible through the support of the British Council and British Embassy in Kathmandu, with the collaboration of Amnesty International, Nepal. For more information about the programme see the The Road to PPP, an E-book, accessible on-line at www.cdcArts.org/ppp
Click here to return to MAZI 5