MAZI Photo Gallery
Formation et Tournée Théatre Forum
Zinder,Niger
Reseau des Arts Vivants pour le Developpement, a Niger-based nonprofit organization, uses forum theatre to engage local people in dialogue about the dangers of early marriages and pregnancy in young girls. The phototgrapher, CFSC consultant Dominique Thaly, works with this organization to organize and stage forum theatre and to use the resulting theatre discussions to sustain ongoing information and discussion activities with both women and men in Niger.
The photos below were taken at two forum theatre pieces held in Zinder, Niger (a city in the south central part of the country) in June 2004. The first spotlights the problem of Vesico Vaginal Fistulae (VVF), especially among young women who are married off early in Niger. The second theatre piece discusses polio. Following the theatre discussions, Thaly organized follow-up training and information activities, with support from UNICEF.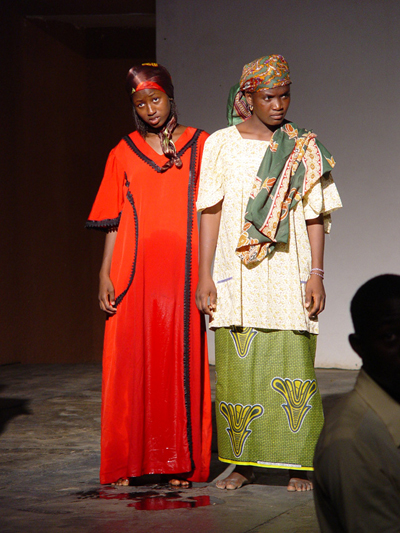 In the first theatre piece, the woman in red plays the character of a young girl married at 14. The other woman plays her worried mother. In the drama, the mother is angry with the father, who decided on the wedding. Early childbirth in the young girl causes vaginal fistula, which in the play is represented by water on her red dress.
 
The second drama focused on polio. The actor, playing a sorcerer, performs his art in front of his wife to keep her from taking their child for a polio vaccination.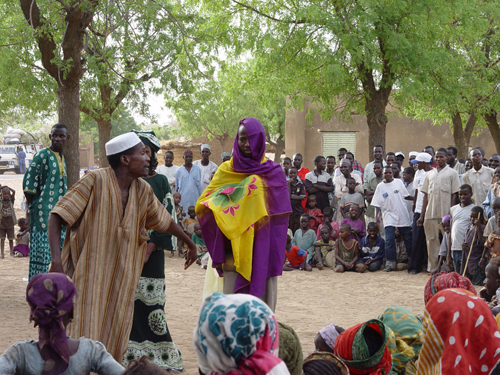 In forum theatre, after the drama has been presented, the assembled audience participates in a dialogue by re-enacting the central characters. With such participatory theatre, the audience is urged to change negative situations to more positive ones through acting. In this case, following the drama about polio, a male spectator voluntarily takes over the role of the mother trying to convince the father not to give his daughter in marriage. In a Muslim and patriarchal society such as Niger's, it is rare that men agree to take over the role of women.
Click here to return to MAZI 5