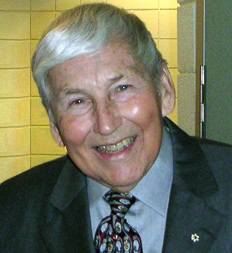 Expanding the CFSC Body of Knowledge
Are you looking for articles, books, essays, journals or reports on communication for development and social change? Is your interest HIV/AIDS, human rights or rural development? No matter what your issue, as long as it deals with communication for social change, you should be able to find useful references in the Body of Knowledge, the CFSC Consortium's searchable database.

Our database continues to grow, with some 2,500 references from around the world now registered. We invite you to consult the database for your use. And we encourage you to submit any reference you consider relevant to helping our database continue to grow.

Mazi is Seeking Guest Contributors
Do you know of interesting examples of successful applications of communication for social change principles within your community or country?

Mazi is looking for good case stories of CFSC at work: illustrations of the process of dialogue leading to community decision-making, action, implementation, monitoring, assessment and evaluation. We're especially interested in examples of how communication processes have been strengthened or established at a community level by people who have been traditionally marginalized.

Help all of us build a better understanding of the many and varied ways that public dialogue leads to community decision-making and action. Describe for us where it takes place and why. Explain how CFSC is working. Inspire us all by telling us your community's story.

Please e-mail your contribution of at least 250 words to mazi@communicationforsocialchange.org

Please make sure your story includes the CFSC elements: catalyst or catalytic event, problem identification, dialogue, decision-making, community action, monitoring and evaluation, and assessment of change at the individual and societal levels. Include your name, phone number, fax (if available) and email address.

The facts of all submissions will be verified. Once verified, they may be included either in Mazi or on the Consortium's website.

Calling for CFSC Images""Photos, Artwork, etc.
Mazi invites your original images showing communication for social change in action. Whatever your medium""photography, painting, sketches, mosaics, murals, songs or dances""if you have an image showing people working together to give everyone a voice""we will consider publishing it in our online magazine. Unfortunately, we are unable to return your submission. We also reserve the right to crop and/or edit your work for style and content. Each creator will be credited online for his or her submission.

Please e-mail your contribution to mazi@communicationforsocialchange.org

About Mazi 3 Photos
The photos in this issue are from CFSC projects in the Umzingwane and Bindura districts of Zimbabwe, in southern Africa. In all of the CFSC Zimbabwe projects, young people between the ages of 14 and 25 have developed, and are running, communication programmes aimed at empowering youth to lead the fight against HIV/AIDS in their villages. Mazi sincerely thanks the photographers, the Umzingwane AIDS Network, Africare and Zapso for their continued support of these projects.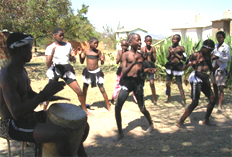 Photo by Karen Christensen & Morten Kattenhoj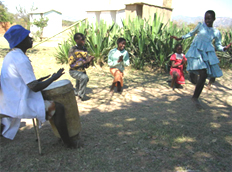 Photo by Karen Christensen & Morten Kattenhoj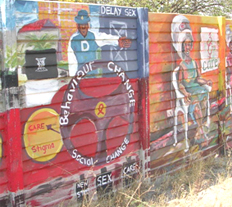 Photo by Karen Christensen & Morten Kattenhoj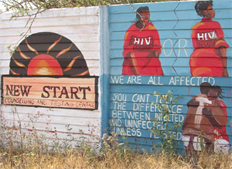 Photo by Karen Christensen & Morten Kattenhoj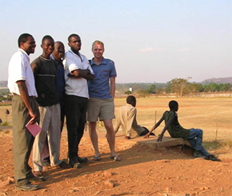 Photo by Karen Christensen & Morten Kattenhoj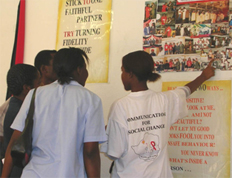 Photo by Karen Christensen & Morten Kattenhoj
Collective Wisdom Is Always Better Than Individual Opinion
Message from Denise Gray-Felder
A smart interviewer once asked me: "What keeps you awake at night?" This has become one of my favourite interview questions. Because, if answered thoughtfully, the person questioned must closely examine her actions, values, anxieties and accomplishments—on a short-term as well as long-term basis.

Lately, I've been using my sleepless nights to ponder why those of us in communication for development don't work together more regularly and effectively. Why do we often prefer multiple, fragmented communication strategies when working on a development issue, such as AIDS, tuberculosis, or poverty reduction, when we know that "silo" approaches, i.e., narrowly focused functional ways of working, haven't worked.

Instead of taking time to undertake the hard work required to come together as a professional community and craft a comprehensive communication strategy, we often settle for approaches that are incomplete and short term.

Or, perhaps equally as puzzling, why don't funding organizations, supporters and bosses demand integrated communication approaches based upon what affected people want and need. Only when communication is rooted in the reality and context of how real people think, act, behave, talk and teach their children does social change have a chance of being sustainable and effective.

Conversation with George Atkins:
Don't be so darn sure that we are right!
In an interview with Alfonso Gumucio-Dagron, the Consortium's managing director, programmes, CFSC pioneer George Atkins explains how communication for social change is different from teaching people what to do—and that we should listen first and not be "so darn sure that we are right."

George Atkins, founding director of the Developing Countries Farm Radio Network and a lifelong member of its board of directors, is a CFSC pioneer.

Atkins has been active in rural life since his early work as manager at his family farm, and as a member of rural youth and agricultural organizations. He conceived the idea for an international network of radio broadcasters in 1975, when he was on assignment in Africa, for the Canadian Broadcasting Corporation, where he conducted a workshop to upgrade the skills of farm broadcasters living in Commonwealth countries. In Africa, he learned from the broadcasters that they needed and welcomed information for their radio programs about composting, raising oxen and other topics appropriate to their audiences. In 1979, he founded the network.

In recognition of his outstanding service in Canada and internationally, Atkins was appointed a Member of the Order of Canada and received an honorary doctorate of law from the University of Guelph. And in 2004, the Canadian Bureau of International Education presented him the Lewis Perinbaum Award for International Development.

At 87, he remains active in Hepworth, Ontario, where he lives with his wife, Janet.

Communication For Social Change Anthology: Historical and Contemporary Readings
For communication and development experts worldwide, a groundbreaking work offering you:
100 essays tracing the evolution of CFSC innovation
Thought-provoking selections from around the world
An authoritative academic resource on the evolution of communication for social change thinking
First printing in English, with Spanish and other languages to follow

CFSC: Measuring Change
The CFSC Consortium has produced four publications on monitoring and assessing CFSC processes. Each publication will be available to order or download via the Consortium's Web site

They are:

Who Measures Change?: An Introduction to Participatory Monitoring and Evaluation of Communication for Social Change. This comprehensive reference is for evaluation and communication professionals studying, teaching or researching communication evaluation processes.

Measuring Change: A User's Guide to Participatory Monitoring and Evaluation of Communication for Social Change . A shorter version of Who Measures Change? for people implementing evaluation processes in the field.

Communities Measure Change: A Reference Guide to Monitoring Communication for Social Change . This reference guide uses a Q&A format to summarize communication for social change principles and lays out a process for how communities can evaluate results of applying those principles.

An Annotated Bibliography of Useful Web Sites, Reports, Books and Articles on HIV/AIDS communication, CFSC Participatory Monitoring and Evaluation.
Analysing How Decision Makers Perceive Communication for Social Change
In this audience research report, authors Wendy Quarry, who does development work in Afghanistan, and Ricardo Ramirez, who is an assistant professor at the University of Guelph, Ontario, Canada, demonstrate the need for knowing how policy makers perceive communication for social change and whether they truly understand its implications for the success of any development initiative. When this work was done, the researchers used the term communication for development as it is broadly in use. We hope that we make clear to the reader the strong emphasis on participatory approaches that involve affected people in making their own decisions. The editors.

Making the Connection: CFSC and the 'Report of the Commission for Africa'
This year, the publication of "Our Common Interest: Report of the Africa Commission," combined with other events, could well mark a break with development policy as it has evolved since the Second World War. For the first time, the opportunity exists for developing countries to take control of their own development agendas. In this article, the Consortium's James Deane, managing director, strategy, suggests that, while many obstacles remain, the potential for people most affected by development to make their voices heard and to make decisions affecting their lives has rarely been greater.

Communication for social change has one main aim: Use the power of communication to enable people, especially poor and marginalised people, to shape the decisions that affect their lives.

Communication in development is still used mainly to educate and inform people about what outside agencies think they need to know. Increasingly, though, using communication to equip and empower people to take control of their own development agendas is no longer an unusual or contentious aim. Many organisations working to fight poverty—including the largest such as the World Bank—talk about the importance of participation, about how essential it is that poor people's voices are heard and about how so many development initiatives fail because they do not take into account the perspectives of the people most affected.

Talking With a Purpose: When Dialogue is Not Just Talk
CFSC dialogue is the process through which people understand together, think together and see together their community's path to change. The Consortium's Jim Hunt, senior advisor, explains why dialogue is not just talk, and he invites Mazi readers to share stories of how CFSC dialogue has helped communities find development solutions.

Changing the Face of the World
In a speech delivered at a recent conference of the BBC-World Service Trust, Hilary Benn, U.K. Secretary of State for International Development, asked, "How can we ensure that we hear many more Southern voices talking for themselves and about what they want for the future of their country, rather than two people from the North having an argument about what we think is good for someone else?"

Using Communication for Social Change To Build Social Capital for Bangladeshis Who Are Ultrapoor
With the goal of improving the situation of Bangladeshis who are ultrapoor through increased awareness and mobilisation, the Advocacy and Human Rights Unit (BRAHU) of BRAC, formerly known as Bangladesh Rural Advancement Committee, created opportunities for people to establish permanent community forums. Today, these forums are dedicated to helping ultrapoor people and addressing other community issues, and they are building social capital. This case study by Jenevieve Mannell, with research by her and Arvid Chowdhury and funded by the Aga Khan Foundation of Canada, documents how communication for social change helped make it happen.

New ALAIC Board
The Latin American Association of Communication Research (ALAIC) has elected a new board on May 14, 2005. The new President of ALAIC is Bolivian Erick R. Torrico Villanueva, who was elected unanimously for the period of 2005-2008, during the General assembly held in Sao Paulo.


Useful Links
http://www.portalcomunicacion.com/
El Portal de Comunicación es una colaboración entre institutos y fundaciónes cual ofrecen información y documentación especializado en los diferentes aspectos de la comunicación. El objetivo del Portal es poner la información en la Red para que sea accesible al estudiante y profesionales de la Communicación.

http://www.portalcomunicacion.com/
The Communication Portal is a collaboration of institutes and foundations offering specialized information and documentation of the many different aspects of communication. The objective is to post this information on the Internet so it is accessible to students and professionals in the communication field.

http://www.farmradio.org/
This issue of Mazi features an interview with CFSC pioneer George Atkins, founder of the Developing Countries Farm Radio Network. The Network is a Canadian-based, non-profit organisation partnering with some 250 radio broadcasters in more than 35 African countries. The goal is to fight poverty and food insecurity.

http://vdpq.free.fr/
The Federation of Participatory Video is a group of French television professionals focused on promoting communication for social change through local productions that give voice to people and reflect their interests and needs.

http://www.us.es/
El Masters Universitario en Comunicación y Desarollo es un programa en cual sera presentado en trés puntos principales: teoría, metología y prática. Los estudiantes seran apoyados en cada parte por el uso del Red. Materiales biliográficos, recommendaciónes estaran a su deposición incluso tendran acceso al chat interactivo y evaluaciónes de las lecturas.

http://www.us.es/
The Universities Master's in Communication and Development is a program in three parts: theory, methodology and practice. Students will be supported in each part by means of the Internet. Bibliographical materials and recommendations will be at their disposal , along with access to interactive chat and lectures.

http://dcc.syr.edu/
Communication policy issues have become the dominant activity of the U.S. Congress, replacing environmental issues, according to Reinventing Media Activism, a long-term analytical report issued by Syracuse University's Convergence Center.

http://ubuntu.upc.es/
The World Forum of Civil Society Organisations seeks to spark a process leading to the reform of international institutions and moving toward democracy worldwide. The forum plans a Global Call to Action Against Poverty on September 10, 2005, just before the UN General Assembly meets.