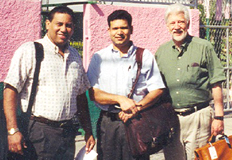 From left to right, Rafael Obregon, Arvind Singhal and Everett Rogers
Expanding the CFSC Body of Knowledge
Are you looking for articles, books, essays, journals or reports on communication for development and social change? Is your interest HIV/AIDS, human rights or rural development? No matter what your issue, as long as it deals with communication for social change, you should be able to find useful references in the Body of Knowledge, the CFSC Consortium's searchable database.

Our database continues to grow, with some 2,500 references from around the world now registered. We invite you to consult the database for your use. And we encourage you to submit any reference you consider relevant to helping our database continue to grow.

Mazi is Seeking Guest Contributors
Do you know of interesting examples of successful applications of communication for social change principles within your community or country?

Mazi is looking for good case stories of CFSC at work: illustrations of the process of dialogue leading to community decision-making, action, implementation, monitoring, assessment and evaluation. We're especially interested in examples of how communication processes have been strengthened or established at a community level by people who have been traditionally marginalized.

Help all of us build a better understanding of the many and varied ways that public dialogue leads to community decision-making and action. Describe for us where it takes place and why. Explain how CFSC is working. Inspire us all by telling us your community's story.

Please e-mail your contribution of at least 250 words to mazi@communicationforsocialchange.org

Please make sure your story includes the CFSC elements: catalyst or catalytic event, problem identification, dialogue, decision-making, community action, monitoring and evaluation, and assessment of change at the individual and societal levels. Include your name, phone number, fax (if available) and email address.

The facts of all submissions will be verified. Once verified, they may be included either in Mazi or on the Consortium's website.

Calling for CFSC Images""Photos, Artwork, etc.
Mazi invites your original images showing communication for social change in action. Whatever your medium""photography, painting, sketches, mosaics, murals, songs or dances""if you have an image showing people working together to give everyone a voice""we will consider publishing it in our online magazine. Unfortunately, we are unable to return your submission. We also reserve the right to crop and/or edit your work for style and content. Each creator will be credited online for his or her submission.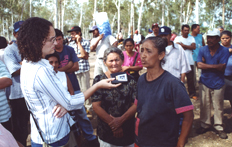 Photo by Alfonso Gumucio-Dagron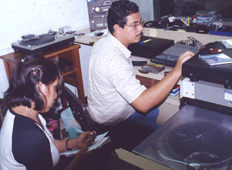 Photo by Alfonso Gumucio-Dagron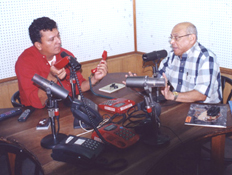 Photo by Alfonso Gumucio-Dagron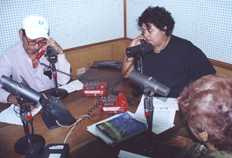 Photo by Alfonso Gumucio-Dagron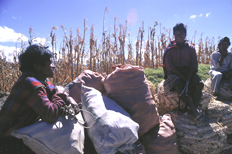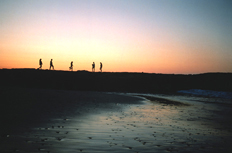 Make Them Hear You
Message from Denise Gray-Felder
This is the second issue of Mazi, our online report. Mazi means together. The CFSC Consortium has entered our second year of operation, and together, with our global network of supporters, we already see positive results. Results of our efforts to influence how communication for development training takes place at local levels and with groups of people who have been voiceless too long. Results in gathering institutions and resources to support CFSC processes. Or in bringing those in power together with those who lack confidence in their own personal or community's power. And in supporting coalitions of professionals who believe that social change communication is essential to good, effective development work.

As you can tell from reading this issue and our first one, which you can view on our Web site archives, we have a wonderfully talented group of partners, staff and consultants working with us. One of them was Everett Rogers. Early in our CFSC work, Ev signed on to help us think through how CFSC can be learned -- as opposed to "taught" -- at the university graduate level. We were overjoyed that he agreed to help our advisory panel. Personally, I was dumbstruck when he entered the room for our Bellagio forum; being rendered nearly speechless was something that had rarely happened to me before or since. One of my clearest memories from my University of Michigan journalism training was Ev's writing and research.

A Conversation with Everett Rogers
By Arvind Singhal and Rafael Obregón

Everett Rogers, a ground-breaking communication scholar, researcher, teacher and practitioner, passed away late in 2004. This interview is the Consortium's tribute to him, in recognition of his tremendous contributions to the communication field. Ev was a member of our communication for social change competencies advisory panel and as such helped shape the Consortium's CFSC master's degree curriculum outline. Arvind Singhal and Rafael Obregón were able to talk with him shortly before his death.

Arvind Singhal is professor of communication studies and Presidential Research Scholar at Ohio University. Rafael Obregón, communications adviser at the Pan- American Health Organization, has been a professor of communications at Universidad del Norte, Colombia and is a consultant to the CFSC Consortium.

Mobilizing Resources for Social Change Communication: Is This the Best of Times or the Worst?
In this essay, James Deane, the CFSC Consortium's managing director of strategy, explains why our times are the best and the worst, in terms of optimism that humanity will finally defeat poverty.

It was the best of times, it was the worst of times, it was the age of wisdom, it was the age of foolishness, it was the epoch of belief, it was the epoch of incredulity, it was the season of Light, it was the season of Darkness, it was the spring of hope, it was the winter of despair.


(From A Tale of Two Cities by Charles Dickens, referring to the year 1775)


Dickens' words, describing the prelude to what historians call the age of revolutions, resonate in our own time. In terms of making real impact on global poverty, the year 2005 may indeed be the best and worst of times; a season of affluence set in one of poverty.

Voiceless People Speaking Truth to Power
Jim Hunt, senior adviser of the Consortium, presented during a pre-conference seminar of the Public Relations Society of America's fall conference. In his presentation, Hunt challenged public relations professionals to 'do more to confront the realities of power.'

I'm here today to represent the Communication for Social Change Consortium and Denise Gray-Felder, our founder, president and CEO. We are not a public relations group, although Denise and I have had long careers in PR. The Consortium is an international network of people and organizations committed to positive social change and a broader role for communication in the process.

Whose Class is This Anyway?
A Dialogue about Communication for Social Change Learning
by Jim Hunt

Whose "class" is it anyway?

This question is one in a series of important questions CFSC educators must ask ourselves and those who gather for training in communication for social change approaches. We'll discuss this question in this article and welcome your feedback. In subsequent articles, we will discuss other questions – including those you believe are critical to a communication for social change learning dialogue. We believe we can best teach participatory approaches like CFSC by using the process of dialogue to teach. Our role as teacher, like the role of the communicator in a community engagement, is facilitation.

Consider again the first question: Whose class, or workshop, or seminar or university course, is it anyway?

Toward a New Kind Of Communication to Defeat Zambia's HIV/AIDS Pandemic
Minister Gladys Nyirongo, Zambia's minister of sport, youth and child development, recently spoke at a UNICEF-Zambia workshop on communication for social change at which the Consortium's Denise Gray-Felder and consultant Ailish Byrne worked with local community leaders on using and monitoring the CFSC process. Workshop participants aim to create a social movement within Zambia in which every resident knows his or her HIV status.

The Dynamics of Citizens' Media
In her landmark study, Fissures in the Mediascape: An International Study of Citizens' Media (Hampton Press 2001), Professor Clemencia Rodriguez presents case studies of electronic media in the hands of ordinary people—in Nicaragua, Catalonia, Colombia and USA Latino. The book calls for an approach to the study of citizens' media that recognizes that each community has a unique geographic, historic, cultural and socio-economic context.

La Primerísima
The CFSC Consortium's managing director of programs, Alfonso Gumucio-Dagron, presents in this case study of a hugely popular and long-lived citizens' radio station in Nicaragua the critical elements of the station's social, political and financial sustainability.

During recent decades, the migration process from rural to urban areas in Latin America has been intense. This region is no longer largely "rural," as it was in the sixties and seventies, when the community radio stations emerged. Violence and hunger have pushed millions of Latin-American peasants and Indians to the cities and the misery belts that surround them.

Now, the majority of the population is in urban areas. Even in those countries with a large component of Indian people, such as Bolivia, Peru, Ecuador and Guatemala, statistics show a continual decrease of population in rural areas. These are relevant facts when considering the increasing importance of urban community radio stations, which deal with the new realities of unemployment, informal economy, and social problems of violence, drug addiction, prostitution and lack of civil liberties on both the individual and community level.


Communication for the Abandonment Of Female Genital Cutting
Neil Ford, UNICEF's regional adviser for programme communication in Eastern and Southern Africa, advocates using communication for social change based on human rights principles to help stop female genital cutting, a practice that violates the right of young women to sexual and reproductive health.

UNICEF, with the rest of the development community, has long considered female genital cutting a violation of the right of young women to sexual and reproductive health. It has tried several approaches to end the practice, including:
Alternate rights of passage;
Alternate livelihood strategies for circumcisers;
Laws prohibiting female genital cutting; and
Health messages and public awareness campaigns.
These approaches share a common feature: They did not use communication for social change strategies.

Useful Links
http://www.crisinfo.org/
Communication Rights in The Information Society is a campaign to ensure that communication rights are central to the information society. The campaign is sponsored and supported by NGOs involved in media and communication projects around the world. Content in French and Spanish also available.

http://www.forumsocinfo.gov.br/
Here is the report of the November 2004 forum organised by the Brazilian government and the European Commission. The forum's goal: Strengthen cooperation between the regions through a shared vision of the potential of information and communication technologies as tools for social cohesion.

http://www.forumsocinfo.gov.br/ (Español)
Aquí es un reporte del Foro en noviembre 2004 organizado por el Gobierno Brasileño y la Comisión Europea. El objetivo fue el fortalecimiento de la cooperación entre ambas regiones a través de una visión común sobre el potencial de las tecnologías de la información y de la comunicación como herramientas de cohesión social.

http://www.seiu.org
The Service Employees International Union comprises 1.7 million working people and 120,000 retirees united to improve their jobs and communities. The union aims to use participatory communication to improve services for its members and to engage with other civil society groups in addressing important social issues in the U.S.

http://www.tbtv.org
TBTV's mission is to provide support and solidarity for tuberculosis patients around the world, especially people with drug resistant and TB-HIV co-infections. The organization's site is interactive; it parodies television and fosters a sense of community and activism.