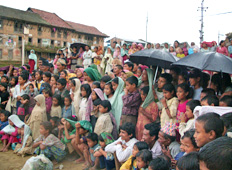 Photos by Alex Mavrocordatos
CFSC Consortium Body of Knowledge
Are you looking for articles, books, essays, journals or reports on communication for development and social change? Is your interest HIV/AIDS, human rights or rural development? No matter what your issue, as long as it deals with communication for social change, you should be able to find useful references in the Body of Knowledge, the CFSC Consortium's searchable database.

The body of knowledge has more than 3,000 references from around the world now registered. We invite you to consult the database for your use. And we encourage you to submit any reference you consider relevant to helping our database continue to grow.

Inviting Artistic Images, Songs, Poetry Showing CFSC In Action
Mazi invites your original images showing communication for social change in action. Whatever your medium""photography, painting, sketches, mosaics, murals, songs or dances""if you have an image showing people working together to give everyone a voice""we will consider publishing it in our online magazine. Unfortunately, we are unable to return your submission. We also reserve the right to crop and/or edit your work for style and content. Each creator will be credited online for his or her submission.

Please e-mail your contribution to mazi@communicationforsocialchange.org

Inviting Guest Contributors
Do you know of interesting examples of successful applications of communication for social change principles within your community or country?

Mazi is looking for good case stories of CFSC at work: illustrations of the process of dialogue leading to community decision-making, action, implementation, monitoring, assessment and evaluation. We're especially interested in examples of how communication processes have been strengthened or established at a community level by people who have been traditionally marginalized.

Help all of us build a better understanding of the many and varied ways that public dialogue leads to community decision-making and action. Describe for us where it takes place and why. Explain how CFSC is working. Inspire us all by telling us your community's story.

Please e-mail your contribution of at least 250 words to mazi@communicationforsocialchange.org

Please make sure your story includes the CFSC elements: catalyst or catalytic event, problem identification, dialogue, decision-making, community action, monitoring and evaluation, and assessment of change at the individual and societal levels. Include your name, phone number, fax (if available) and email address.

The facts of all submissions will be verified. Once verified, they may be included either in Mazi or on the Consortium's website.

Always a Friend, Rarely a Stranger
Message from Denise Gray-Felder
Consortium President Denise Gray-Felder reflects on what it means to be a global citizen, the responsibilities that brings, and practicing communication for social change in complex situations.

What Complexity Science Teaches Us About Social Change
by Virginia Lacayo
Exactly how social change takes place is a critical issue for CFSC scholars and practitioners. Complexity scientists view social change as complex, nonlinear, contradictory, and so its implications for the CFSC process are important. This essay, by Ohio University Ph.D. candidate Virginia Lacayo, is based on her master's thesis.

U.N. Round Table by James Deane
Based on his formal background paper for the recent U.N. Interagency Round Table on Communication for Development, this essay by James Deane, the Consortium's managing director of strategy, concludes that: " The bottom line is that unless the mainstream development system starts to ask questions regarding basic communication for development in assessing the nature of development problems, it will never identify communication for development as a critical component of the solution to those problems." The essay does not necessarily represent the views of UNDP, or any other organisation participating in the Round Table.

Photo Essay: Helping a Mali Village Confront a Water Crisis
by Alex Mavrocordatos
Theatre for development is a particularly effective form of communication for social change. Alex Mavrocordatos worked on, and photographed, a successful example of theatre for development that, over five months' time, fostered social change in Kolo, a small Mali village.

Living With HIV/AIDS by Nyambe Kamungoma
Open and inclusive dialogue about HIV—and the factors contributing to its spread—is key to halting the AIDS pandemic. Here Nyambe Kamungoma, a Zambian activist, talks about living with HIV/AIDS. He describes how the communication for social change process helps communities face the health crisis—and develop strategies to confront it. The Consortium plays a key role in the "Know Your Status" initiative in Zambia.

The Humanity of Muhammad Yunis by Arvind Singhal
Much of the success and growing popularity of micro- credit approaches to moving ultra-poor people out of poverty can be traced to the work of Nobel Prize Winner Muhammad Yunus. In 1976, Yunus developed the idea of giving small loans to entrepreneurs in his country, Bangladesh. An early supporter of the Consortium's work and the communication for social change process, Yunus established Grameen Bank, which now provides millions of small loans within many of the world's poorest countries. Arvind Singhal, professor and presidential research scholar at Ohio University's School of Communication Studies, considers Yunus a friend. He describes his encounters with this phenomenal man.

Voices from the Magdalena: Communication for Peace
"Voices from the Magdalena. Communication for Peace" is a 35-minute video documentary on the community radio network in the Magdalena Media region of Colombia. The region is known because it is at the centre of confrontation between guerrilla and paramilitary forces. Decades of conflict have caused enormous economic, political and social damage to the people living in the region.

This DVD is a powerful teaching tool in demonstrating how community radio can give voice to people who are poor and marginalised.


CFSC Anthology: Historical and Contemporary Readings
On Sale Now. $120 per copy for this two-volume reference bound into one book. Special price: $75 per copy for orders of three or more. Order today online. Shipped within 24 hours.
The Communication for Social Change Anthology:
Historical and Contemporary Readings
This groundbreaking book brings together a broad variety of views and features more than 150 key thinkers throughout the world. Edited by Alfonso Gumucio-Dagron and Thomas Tufte, the anthology reviews the evolution of communication for social change thinking from the early 20th century to the present. With more than 1,000 pages, this reference work is essential for communication and development experts as well as for anyone conducting business globally.

Help Wanted
The CFSC Consortium is looking to expand its base of practitioners in Africa, specifically with participatory communication experts who are willing to work for extended periods of time in west Africa. The person(s) selected must have at least 10 years experience working in communication for development, especially on health and cultural issues and must be fluent in English. Knowledge of Hausa and project management is a clear plus as well.

Please send a resume or curriculum vitae with compensation requirements to info@communicationforsocialchange.org no later than March 20, 2007.
Donating Made Quick and Easy Online
If you would like to donate to the CFSC Consortium, it is now easier than ever. Simply visit our Web site. We now accept MasterCard, Visa, Amex, and Discover.

Useful Links
U.N. Interagency Round Table on Communication for Development
The 10th U.N. Interagency Round Table on Communication for Development, hosted by UNESCO in Addis Ababa February 12-14, 2007, aimed at developing a U.N. system-wide approach to communication for cevelopment in the context off achieving the Millennium Development Goals. For James Deane's formal paper""and for a host of other documents presented at the conference, visit:
http://portal.unesco.org/

Interactive Television Programme Raises Social and Health Issues in India
Kalyani targets half of India's people, especially those living in the most populous states. As a health and social issues programme, it used the power of television to help people in areas with the poorest health indicators. It uses a participatory method through its "phone ins," letters from viewers and quizzes. For more information, write: kalyani.doordarshan@gmail.com. The broadcaster's Web site is:
http://www.ddindia.gov.in/

Arvind Singhal Awarded Everett M. Rogers Award for Achievement in Entertainment-Education
The Norman Lear Centre at the USC Annenberg School for Communication gives an award each year in memory of Everett M. Rogers, a CFSC pioneer and a former associate dean and professor of communication at the school. For the script of the colloquium marking the award""and for Singhal's remarks about working with, and learning from, Rogers, visit:
http://learcenter.tempdomainname.com/