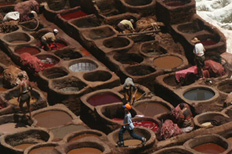 The Master Tanners of Morocco
Photos by April Pojman

The industrialization that swept away much of the world's artisan production techniques in the nineteenth century, left the narrow winding streets of the medinas, or the old Arab sections of Moroccan cities, only marginally changed. The city of Fez continues to be home to some of the longest standing craft guilds in the world. Here, satellite dishes peer over century old artisan traditions that are supplied by materials carried in on the backs of donkeys. Pottery, henna, and fresh fruits and vegetables are sold in the open air around public squares, while in the tanneries, animal hides are processed and dyed by master tanners and their apprentices in a lengthy labor-intensive process. The tanning of hides by traditional means commands such respect that there is a type of leather known the world over by the name of Morocco.

When not traveling, writing, photographing or navigating her way through the back country, April Pojman is a masters student at the University of Guelph in Canada. Previously an independent consultant working with Latin American agricultural and artisan producer cooperatives, she now dedicates her time to learning about stakeholder participation, capacity building, and alternative methods for program evaluation. She looks forward to taking this knowledge back into the field.

The Power of All
Message from Denise Gray-Felder
Welcome to the first issue of Mazi, the online report from the Communication for Social Change Consortium.

Mazi (pronounced "mah-zee") means together. Communication for social change is about the power of all—the conscious choice of communities to join forces, to plan, strategize, implement and evaluate communication approaches together.

The Consortium was born one year ago. We saw the need to focus global attention on a communication approach that seeks to equip poor people to manage and control their own means of communication. This need is even more apparent today, as we struggle with such critical social issues as education, health and wellness—including AIDS, malaria, polio and tuberculosis and the need for clean water, good sanitation, safety of women and children, reliable housing and jobs.

Recently I watched the "power of all" work in Zambia, where some 70 organizations working on HIV-AIDS came together to learn more about communication for social change.

The group agreed that HIV-AIDS communication can be more effective at all levels of society if we focus on ways to influence the entire community's social values and beliefs—and not trying to influence only individual beliefs and actions. We debated if a group like the one assembled could successfully scale-up community-based communication approaches to a national level. Someone observed: Isn't "all" always better than "one"?

I think so. In this and subsequent issues of Mazi contributors from various parts of the world will help Consortium staff, as we highlight good examples of CFSC work and thinking. In so doing, we expect to strengthen the network of people researching, studying and applying CFSC approaches, as well as to influence major supporters of communication for development work.

Mazi will focus on where CFSC works and why, trends in the field, what communities are learning from CFSC approaches. The report will also connect readers to resources.

This first issue includes a piece on the power of public and private dialogue, a recap of the Consortium's contribution to the Communication for Development Roundtable and an interview with Bolivian CFSC scholar Luis Ramiro Beltrán.

I sincerely hope you will send us your feedback and story ideas. Tell us what you want to read, challenge us, help us find illustrations of people in poor communities coming together to find better ways of reaching out, listening, learning from and uplifting their own voices.

Please join us. Together, we have the power of all to change minds, change practices, change lives.
Body of Knowledge
Welcome to the Consortium's Body of Knowledge, our searchable database of writing and scholarship on communication for social change and development.

The database ranges from the early days of development communication practice and study to the present. And the collection includes thousands of anthologies, journals, articles and papers from around the world.

International Days: A Burden or an Opportunity?
"International Days: A Burden or an Opportunity?" a commentary by the CFSC Consortium's Alfonso Gumucio Dagron published by the Communication Initiative, questions the effectiveness and relevance of international days that "celebrate" worthy causes. Examples include: International Day for the Eradication of Poverty, International Migrants' Day, and World Refugee Day. Gumucio argues that these days are "part of the agenda of donors in the North, not of developing countries" and that they too often involve communicating only with, and through, the mass media, not the people they're theoretically intended to help.


Our Evolving Education Programmes
Education and training programs are essential to the mission of the CFSC Consortium, and have been from the outset, serving as the focus for a series of international meetings sponsored by the Rockefeller Foundation in its support of the CFSC project. This article, by CFSC Consortium's Jim Hunt, describes the evolution of our programs and our approach to them.

Notable Quotables
Thought-provoking quotes about how open and inclusive communication is integral to social change…

I think the main lesson of those years [the 1980s, during the end of the 'Cold War'] is the need for dialogue, which must not be broken off whatever the challenges and complications we have to face.

Mikhail Gorbachev, Former Soviet Union President
Trajectoires Culturelles Transamericaines
In the context of today's new global economy and postcolonialism, what is happening to cultures throughout the American continent? Will knowledge become democratized? This book offers a broad array of witness accounts of how these issues are unfolding today in Argentina, Brazil, Bolivia, Chile, Canada, Mexico, the United States.

Calling for Guest Columnists
We invite practitioners to participate in our global dialogue. Please write us if you have an idea for a guest column on CFSC in action.

Send an email to info@communicationforsocialchange.org
Another Communication Is Possible
The Latin American Communication Network says communication must promote social inclusion and ongoing dialogue. It decries recent communication technology trends, including the concentration of ownership and the view that information is merchandise--rather than a birthright for all.

The Power of Community Consultation
The people of Malawi face massive social, cultural and economic challenges. But for people to engage actively in improving their lives, dialogue, not information, is what's needed. Unfortunately, in most of Malawi's development projects, so-called information experts don't understand that communication comprises a multidisciplinary approach. For example, people should have a say in whether a development project is truly what their community needs.

U.S. in the World : Talking Global Issues With Americans, A Practical Guide
This comprehensive new tool, based on extensive research, helps those interested in talking to Americans about U.S. foreign policy. The 140-page book features communication pointers and facts framed in ways that are more likely to engage a large segment of Americans.

Interview With Luis Ramiro Beltrán:
'I've Lived My Life As a Communication Artist, Not a Scientist'
Luis Ramiro Beltrán is undoubtedly one of Latin America's key development communication specialists. His practice and his writings cover more than 40 years of contributions to the field of communication for social change. Bolivian by birth, he was among the first to question the paradigms that emerged in the United States during the1960s and early 1970s. He proposed instead concepts of participatory and horizontal communication inspired in Paulo Freire's writings on education. It is an honour for MAZI to interview Luis Ramiro Beltrán in its first issue. The CFSC Consortium's Alfonso Gumucio-Dagron conducted the interview.