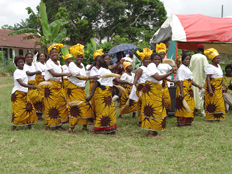 Expanding the CFSC Body of Knowledge
Are you looking for articles, books, essays, journals or reports on communication for development and social change? Is your interest HIV/AIDS, human rights or rural development? No matter what your issue, as long as it deals with communication for social change, you should be able to find useful references in the Body of Knowledge, the CFSC Consortium's searchable database.

Our database continues to grow, with some 2,700 references from around the world now registered. We invite you to consult the database for your use. And we encourage you to submit any reference you consider relevant to helping our database continue to grow.

Mazi is Seeking Guest Contributors
Do you know of interesting examples of successful applications of communication for social change principles within your community or country?

Mazi is looking for good case stories of CFSC at work: illustrations of the process of dialogue leading to community decision-making, action, implementation, monitoring, assessment and evaluation. We're especially interested in examples of how communication processes have been strengthened or established at a community level by people who have been traditionally marginalized.

Help all of us build a better understanding of the many and varied ways that public dialogue leads to community decision-making and action. Describe for us where it takes place and why. Explain how CFSC is working. Inspire us all by telling us your community's story.

Please e-mail your contribution of at least 250 words to mazi@communicationforsocialchange.org

Please make sure your story includes the CFSC elements: catalyst or catalytic event, problem identification, dialogue, decision-making, community action, monitoring and evaluation, and assessment of change at the individual and societal levels. Include your name, phone number, fax (if available) and email address.

The facts of all submissions will be verified. Once verified, they may be included either in Mazi or on the Consortium's website.

Calling for CFSC Images""Photos, Artwork, etc.
Mazi invites your original images showing communication for social change in action. Whatever your medium""photography, painting, sketches, mosaics, murals, songs or dances""if you have an image showing people working together to give everyone a voice""we will consider publishing it in our online magazine. Unfortunately, we are unable to return your submission. We also reserve the right to crop and/or edit your work for style and content. Each creator will be credited online for his or her submission.

Please e-mail your contribution to mazi@communicationforsocialchange.org

About Mazi 4 Photos
The photo above, by Niger's Dominique Thaly, shows polio communication activities in Nigeria during June 2005. Below, the photo by Alex Mavrocordatos shows a theatre performance in Namibia on sanitation issues.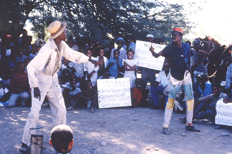 Photo by Alex Mavrocordatos
Gaining Speed and Confidence: Reflections on Progress
Message from Denise Gray-Felder
These are "the dog days" in North America, those end-of-summer weeks when time seems to stand still. Well, the Consortium's "clock" is on high speed. We don't sleep much these days keeping up with the demand for our services as we mature into a global nonprofit organization with broad reach, a strong voice, proven work record, effective convening power and impact.

When we started this journey""after testing and refining the CFSC vision while still a programme of the Rockefeller Foundation for seven years""we gave ourselves five years for our start-up mode. Well, we shot past that descriptor in our first 12 months of operation.

Click here to donate.

Looking At The G8 Summit Through The Prism Of CFSC
James Deane, the Consortium's managing director-strategy, analyses the G8 Summit and predicts what to expect from the U.N. Millennium Summit. His conclusion: Logic dictates it's time for CFSC to become a higher priority.

Culture, Education and Development : Some Gaps
In theory Britain could be on the way back to its "˜ethical foreign policy', if indeed the recommendations of Bob Geldof's and Tony Blair's Commission for Africa are implemented by the Labour party. Acceptance by the G8 leaders however remains a distant dream and the Gleneagles summit had done little to nourish it.

Deciding How Aid is Spent
The Global Development Conference 2005: Africa's Development""Who Decides? was held in London in July 2005. In his presentation at the conference, James Deane, the Consortium's managing director-strategy, argues that it is not the volume of aid that matters most, but who decides how it is spent. The media, he says, has a central role in ensuring that an intelligent debate of the issue takes place.

For many people, and particularly this summer of Live 8, the G8 and the Make Poverty History march, the central issue has been: Who decides the fate of Africa?

Honouring Nora Quebral
Linje Manyozo, Ph.D. candidate at Australia's La Trobe University, highlights the leadership role of CFSC pioneer Nora Quebral at the University of Philippines-Los Baños. This story is excerpted from a longer piece that will be published in the Asian Journal of Communication soon.

Where and how did development communication practice, research and discipline evolve? Who were the pioneers? Attempting to answer these questions, this article outlines how the College of Development Communication at the University of Philippines, in Los Baños, then a department under the leadership of Nora C. Quebral, pioneered ways to teach this field in the early 1970s.

Looking at the MacBride Report 25 Years Later, Part I
Jemimah Mwakisha, Ph. D. candidate at Binghamton University (State University of New York) and an editor of Kenya's The Nation, examines what's happened since 1980, when UNESCO issued its MacBride Report: Many Voices, One World. She refers to its promise as "the order that was never to be." Ms. Mwakisha served as the Consortium's first communication intern while completing a Hubert Humphreys fellowship at Boston University in the United States.

Looking at the MacBride Report 25 Years Later, Part II
In excerpts from his February 2005 presentation to the V Congreso International de Radios y Televisiones Locales Publicas y Alternativas, Alfonso Gumucio-Dagron, the Consortium's managing director- programmes, explains why, in his view, there's nothing much to celebrate 25 years after publication of the MacBride Report.

Fighting AIDS: No to "˜Business as Usual'
The U.N. World AIDS Campaign 2005-2010 has a new, country-level strategy: Here's an excerpt from a recent declaration:

All those behind the changes to the World AIDS Campaign recognize that civil society must be allowed a more central role. Only through broader ownership and by harnessing the skills, experiences and passions of those working on the frontline will the Campaign galvanize new action, change public attitudes and hold governments to their commitments.

Our vision is of a world campaign built on the experience and passion of those most affected, together with a broad range of partners in the North and South. This vision is of a global movement bringing renewed impetus and resolve to the fight against the epidemic. We believe that the "˜business as usual' approach to AIDS and campaigning is a thing of the past.

Tracking the Impact of an Advocacy Paper
Sponsored by the International Development Research Centre, with support from the Communication Initiative, this study by graduate students at Canada's University of Guelph lays out a methodology for evaluating the impact, effectiveness, dissemination of, and potential applications for, an advocacy paper. It also suggests how to improve the document itself. The authors are Cassie Barker, Heidi Braun, Marshall Gallardo Castaneda, Franklin Kutuadu, Richard Marfo, Pete Sykanda and Rosana Vallejos.

CFSC Resources Available
Who Measures Change: An Introduction to Participatory Monitoring and Evaluation of Communication for Social Change by Will Parks. South Orange, N.J.: Communication for Social Change Consortium Inc., 2005.

Measuring Change; A Guide to Monitoring and Evaluation of Communication for Social Change, ed. by Ailish Byrne with Denise Gray-Felder, Jim Hunt and Will Parks. South Orange, N.J.: Communication for Social Change Consortium Inc., 2005. This is an abridged version of the the longer Parks book.

Communities Measure Change: A Reference Guide to Monitoring Communication for Social Change, developed by CFSC Consortium, 2005. This is a poster sized at-a-glance reference for use with community-based CFSC training sessions and is not intended to be a stand-alone document. Contact the CFSC Consortium for information on training and this reference guide.

Making Waves: Stories of Participatory Communication, ed., Alfonso Gumucio-Dagron. New York, N.Y.: Rockefeller Foundation, 2001. Available in English, French and Spanish. Limited availability.

Communication for Social Change Consortium brochure. Available in English, French and Spanish.

Communication for Social Change Anthology, Alfonso Gumucio-Dagron and Thomas Tufte, ed. South Orange, N.J.: Communication for Social Change Consortium Inc.

Call for Papers, Abstracts: World Congress, Rome, March 2006
The Consortium's president serves on the steering committee for the World Congress on Communication for Development, which will take place March 2006, in Rome. This meeting will bring together practitioners, scholars and supporters of communication for development to discuss the field and our practice. Participatory methods often can be overlooked in such settings. So we strongly encourage people working with community-based communication initiatives to submit proposals or abstracts that demonstrate the effectiveness of communication for social change in particular and of participatory models in general.

Useful Links
http://www.blackaids.org/
Fighting the HIV/AIDS pandemic among African Americans, the Black AIDS Institute issues weekly updates on the crisis""and what's being done about it""to those who subscribe. The updates are free of charge.

http://www.fao.org/sd/dim_kn1/kn1_040701a_en.htm
The final report of the Ninth United Nations Roundtable on Communication for Development, which took place September 2004, in Rome, is now available in PDF. Originally a forum only for the U.N. system, the roundtable now includes donors, NGOs, universities and others.

http://www2.uoguelph.ca/snowden/
Focusing on communication technology for social and environmental change, the Don Snowden Programme, at Canada's University of Guelph, has updated its Web site. Among other news, the site announces that students with the programme will participate in the Consortium's meeting "Communication for Social Change and Development," in the Philippines, September 27-30, 2005.