MAZI Photo Gallery
Photo Essay: Community Dialogue Tool Helps Prevent Polio in Nigeria
by Dominique Thaly
The Communication for Social Change Consortium has been working on polio communication in Nigeria since 2005, following the suspension of polio immunization in two northern states. The Consortium is working with several local partners to help local people use community-based communication processes in order to better address the reasons why some parents reject polio vaccines for their young children.
One of the local partners is the COMPASS Project, one of the largest integrated health and education projects in Africa. COMPASS staff believe that long-term success depends on Nigerians owning programmes and initiatives that directly affect their health and well-being.
After analysis of the situation in the northern states of Nigeria, the CFSC Consortium recommended introducing the community dialogue tool into the communication process around polio immunization. Doing so enables communities to discuss among themselves why polio has not been eradicated in their area and what they should do about it.
At end of June 2007, the Consortium's Denise Gray-Felder and consultant Dominique Thaly travelled to Dutse Local Government Area (LGA) in Jigawa State, in northeast Nigeria to observe the fourth round of Immunization Plus Days (IPDs), during which a range of antigens, plus other child survival interventions, were delivered.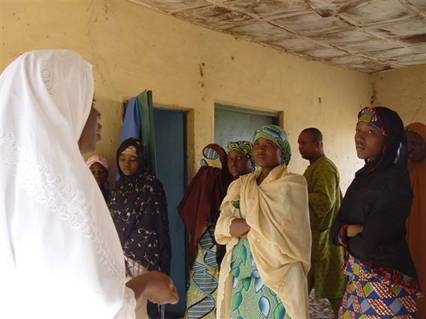 Dr. Lola Mabogunje from COMPASS (far left) meets with the nine-member vaccination team for a briefing in Karnaya ward, Dutse LGA.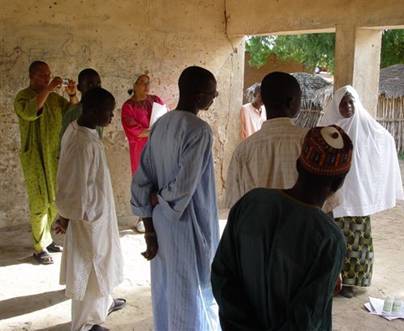 Consortium and COMPASS staff attending the team briefing.
No. 1
The list above shows nine cases of wild polio virus (WPV) and acute flaccid paralysis in Dutse LGA during the first quarter of 2007. The goal: contain the number of WPV to no new cases this year.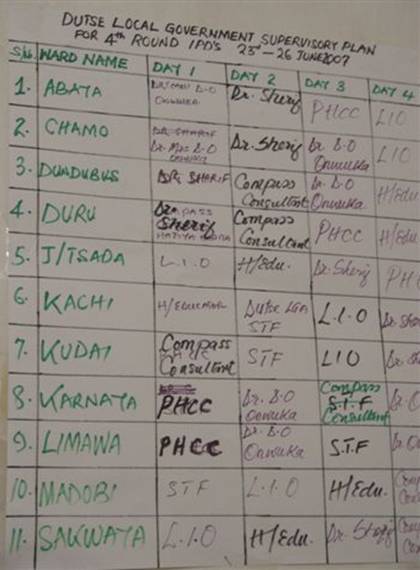 Mapping each local government area is an important component of communication and immunization delivery planning. This chart explains the plans for supervising the fourth round of Immunization Plus Days vaccinations, June 2007, in each of the 11 wards of the Dutse LGA.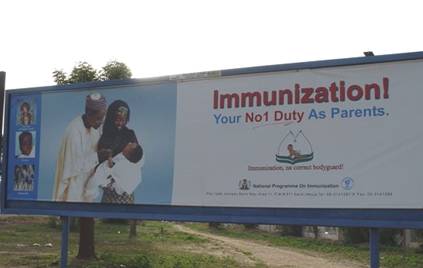 More traditional forms of communication, like billboards, are also used to increase awareness of the need for parents to immunize their children.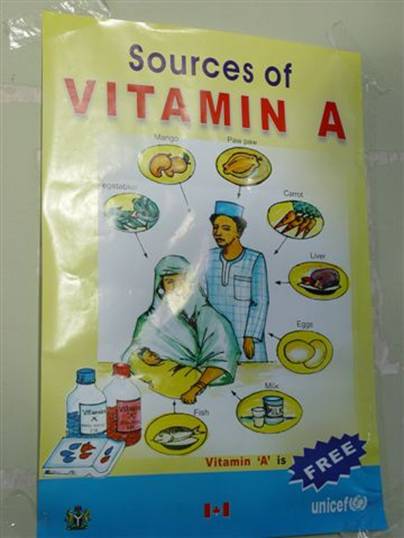 As an incentive for parents to permit their children to be immunised against polio, the team provides them "pluses" in the Immunization Plus Days. Pluses include Vitamin A, insecticide-treated bed nets and bars of soap, as well as other free vaccines against routine childhood diseases.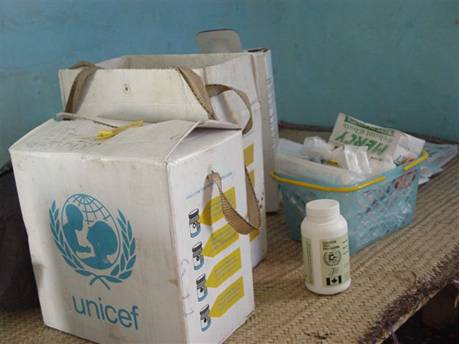 The polio vaccination teams carry the polio vaccines and vitamin A in "cool boxes" like the one above during the Immunization Plus Days.

Dr. Mabogunje gives a polio drop to a child who had been overlooked by the polio vaccination team.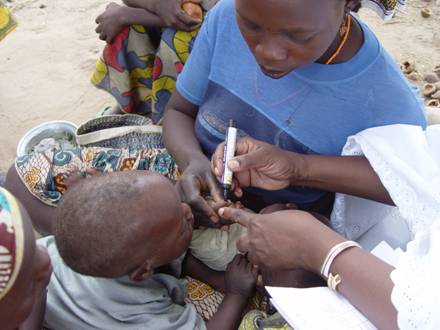 Dr. Mabogunje marks the child's left pinkie finger with a black marker to signify that the child has been immunized against polio.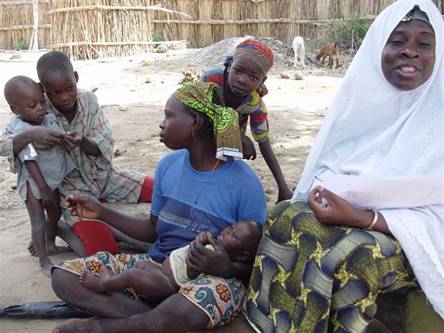 The boy's mother proudly shows a member of Dr. Mabogunje's team that her children have been immunized against polio.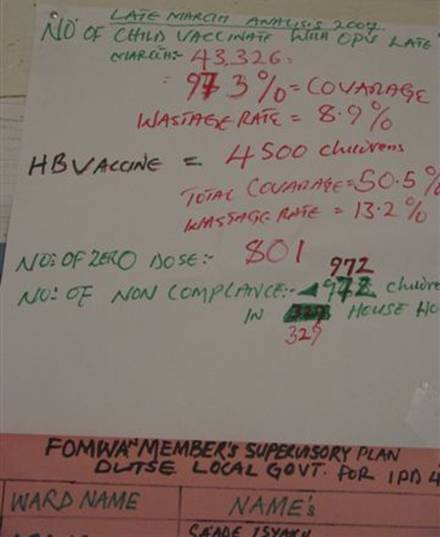 Chart showing a summary of the March 2007 Immunization Plus Days round. More than 43,000 children under five years of age were immunized in Dutse LGA, which amounted to 97.3 percent coverage. Sadly, the team was unable to vaccinate 972 children because their parents or caretakers would not permit it. There were 801 "zero doses," that is, doses given to children who had never had any polio vaccine before.