Publications and Resources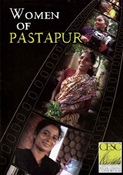 Women of Pastapur
In the villages around Zaheerabad, an impoverished area in the state of Andhra Pradesh, India, a handful of Dalit women, illiterate, mostly dedicated to farming, are using communications tools such as video and radio as part of their struggle to achieve autonomy and self-reliance for their communities.
They suffer from triple discrimination because they are women, they are poor and they come from the lower caste. In spite of it, by using video and radio, these women have gained respect in their communities and have contributed to development and their community's cultural identity.
This story is captured in part in Women of Pastapur, a DVD case story produced by the Communication for Social Change Consortium in India in late 2007.
It is the second DVD case story in a series produced and distributed by the Consortium.
Single copies of this DVD are $10 and both DVDs are USD$16. Click here to order.
Produced, directed and photographed by Alfonso Gumucio-Dagron. Edited by Alfredo Ovando. Producer: Communication for Social Change Consortium, United States. Post production by NICOBIS, La Paz, Bolivia.
Running time: 27 minutes.
Copyright @ 2007 Communication for Social Change Consortium. All rights reserved.
---